81X STEEL BUSHED ROLLER CHAIN
Showing all 3 results
81X STEEL BUSHED ROLLER CHAIN
81X Steel Bushed Roller Chains
81X Steel Bushed Roller Chain offers high strength and long wear, and is manufactured for heavy duty operation under severe conditions. This chain is made according to manufacturers standards and may be interchanged with standard bushed roller chain of other manufacturers.
We are a proud supplier of Allied-Locke chain.  Allied-Locke has been the leader in providing the highest quality USA made chain on the market today.  We can also offer import.  Contact us today at farmchains.com
81X series chains were originally introduced in the early 1900s for heavy-duty industrial and agricultural conveying applications. However, these chains posed a great solution for mill applications that were facing issues with failing "standard" roller chains. Our 81X series roller chains offer exceptional performance at a value-based price point. Our chains include; fully heat-treat components, solid rollers, solid bushings, and in most cases a quad-staked rivet design to allow for side-loads. We stock standard 81X, heavy and extra heavy duty 81X chains, as well as roof-top/ camelback 81X chains.


How To Identify 81X Series Chain
The first thing you want to check is if there is a part number designation on the side of the chain. This will tell you right off the bat what chain you have. If this information is not on the sidebars of the chain then follow the below steps.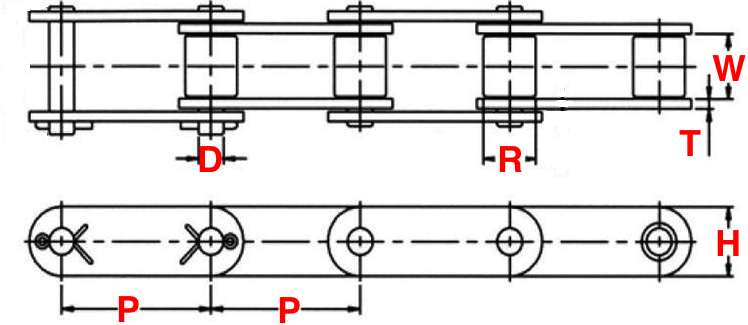 1st: Measure the center of one pin to the center of the next one. This is commonly known as the pitch and is represented by dimension P on the above drawing.
2nd: Measure the pin diameter, this is represented by dimension D.
3rd: Measure the roller diameter, this is represented by dimension R.
4th: Measure the roller width, this is represented by dimension W.
5th: Measure the plate thickness, this is represented by dimension T.
6th: Measure the plate height, this is represented by dimension H.