STANDARD ROLLER CHAIN
Showing 1–

16

of

45

results
STANDARD ROLLER CHAIN
ANSI Precison Roller Chain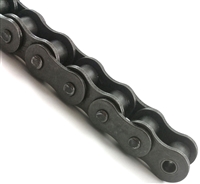 Roller chain is a crucial component in many types of industrial equipment. At Farmchains.com we are proud to offer the best and strongest single-strand roller chains in the business.
Our lineup of standard roller chains include the most common chain sizes and types in the industry. These chains conform to ANSI B29.1 Standards and are manufactured from high-quality carbon steel. For more information or pricing simply contact us or select the subcategories below.
We typically supply #50, #60, #80 and #100 standard duty roller chains for agricultural applications. We also supply #50H, #60H, #80H and #100H heavy duty roller chains for the toughest applications that need the longest life out of their chain. Due to the high speed nature of agriculture equipment chains, we recommend using our Heavy Duty, Solid Rollers, and Solid Bushing quality roller chains that is specifically made for high speed applications. The pins of this chain are case hardened and have the highest outside rockwell hardness across all three quality levels, along with heat-treated bushings, rollers, and side-plates. Having a harder pin will eliminate stretch for most pieces of equipment. Along with the heat treated pins, rollers, and side-plates, all heavy duty roller chains are pre-stretched at the factory. Without excessive chain stretch, you have substantially less wear on the components and the chain will last longer.
We offer all our precision roller chain in 10' coils, 50' and 100' reels.  Contact us today 800-648-5429 if you'd like USA made Precison Roller Chain. farmchains.com
Chain Features
- Solid rollers for increased performance and load bearing.
- Precision heat-treatment on all components = better durability.
- Shot peened to increase fatigue strength and alleviate stress concentrations.